Welcome VisitorFor all ye men

THE BEST ASTATIC D-104 REPLACEMENT ELEMENT
---
---
At RB Micro
, we offer a limited number of Genuine Astatic and generic replacement parts for the TUG and TUP models of the D-104 Desk Microphones. NOS parts are about sold out but we will continue to sell our D-104 replacement element kits.
Located in Northern Colorado in the city of Greeley, we have developed and proud to offer the best and most economical replacement element and acoustical mounting kit for the Astatic D-104.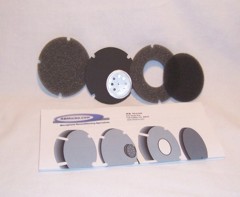 Do you have a damaged element in your D-104? This is a common problem due to the type of crystal that Astatic used in their MC-320 elements. Even when kept is a stable enviornment, the crystal will degrade over time. Today, most MC-320 elements will have a tinny or boxey sound to the output or simply a very low audio output. An excellent and economical solution is our direct replacement crystal element. We took over 9 months to develop our
crystal element replacement kit
which includes a new crystal element and mounting kit for only
$28.50
.
LISTEN
to what a new element kit can do for the sound of your classic D-104.
Since our XTLK kit has received such outstanding reviews, we now offer a MONEY BACK SATISFACTION GUARANTEE on this kit!
You can go to the
ORDER PAGE
and read what the actual customers have to say about our kit.
How can you go wrong?
Here is just one of many satisfied customers:
Just a short note to let you know I received the XTLK - MC320 Direct Replacement Element and Mounting Kit –
I followed your directions and within minutes the D104 Silver Eagle had come back to life better than ever. Everything worked out just great, I got on 40 mtrs to test how it sounded with a friend of mine in Winters California, been friends with him for many years and he knows my voice in person as well over the air, Larry told me to take all my other mic's and trash them, he also recorded my transmission and to be honest with you my D104 never sounded this good.
I thank you for making this available to me and I will let other hams who don't know about your replacement Element for the D104 just who you are and how to order.
Chuck - Rancho Cucamonga, CA
---
If you have questions, visit our
Contact page
or call us. We accept PayPal payments or USPS Money Orders for our merchandise.
Sales are limited to US and Canada Only
Special offers
Product details
Product ID: XTLK - MC320 Direct Replacement Element and Mounting Kit
Description:

NOTE: This item is on BACKORDER and not in stock. Please check back soon. This item will be updated as soon as stock is received.


MC320 Direct Replacement Element and Mounting Kit

MONEY BACK SATISFACTION GUARANTEE*


---

Did you like the way your D104 microphone used to work in the past but the element does not have the clarity it once had? Well, here is the economical answer for you. A Hi-Z crystal element with an acoustical mounting kit for less than $26. The kit comes complete with the replacement element, acoustical mounting pads, a wind screen and a baffle board to avoid phase distortion or audio cancellation from audio waves reflecting from inside of the microphone cavity along with a complete installation instruction sheet.

IMPROVED!
The crystal element now comes with the audio wires attached so you only have to unsolder the old original element from the 3 pin D-104 plug and solder the new element in! Without the proper soldering station tools it was easy to overheat the soldering lugs and break one of the internal wires. By shipping the elements pre-wired, it almost eliminates the chance that the crystal element will be damaged during the installation. All elements are pre-wired and pre-tested for audio response before packaging.

With over 9 months of testing and development to combine the right acoustical materials to give an outstanding sound to the D-104 microphone, RB Micro is offering this mounting kit with the following specifications:

The front and rear mountings are made from sound absorbing polyester foam with a absorption coefficient of .33 @ 2000 Hz.

The baffle is manufactured from Vibrasorb® , a filled vinyl copolymer vibration absorption material.

The charcoal colored windscreen is an acoustically transparent reticulated foam designed to cover the screen area for a clean visual appearance and to replace the old cloth cover originally found in the microphone.

All pieces are die cut to fit the D-104 microphone head.

crystal element:
Sensitivity: -55db @ 1,000Hz
Impedance: 25,000Ω
Frequency Response: 50Hz - 8,000Hz

Installation instruction download: XTLK installation Instructions 96KB PDF

---

Here is a sound clip I made recording the difference between a D-104 with the original Astatic MC-320 element and a D-104 with the XTLK kit. The clip was recorded without any audio processing and both recordings used the same TUG8 base. The base electronics are original and not modified.

Listen Here -> MC-320 vs. XTLK mp3 665kb

---

*Satisfaction Guarantee:

If you are not happly with the performance of this kit for any reason within 90 days of purchase, please use the Contact Form and request a RMA number. Upon receiving the RMA number, write it on the return package and I will return your purchase price of the kit upon receipt of the returned merchandise. Shipping not included.

Product Reviews
Reviews for: : XTLK - MC320 Direct Replacement Element and Mounting Kit

03-12-2008 --
The CB Radio Talk Forum
I purchased the entire kit and it probably took me 15 minutes to install it. Extremely easy to do. The replacement elements RB Micro sells are way better than the stock element that is in the D104 Silver Eagles. I get compliments all the time. Some of the locals that I talk to regularly say I sound much better, louder and cleaner.

03-28-2008 -- cricketsman05
www.thequackshack.com
I received the mike element replacement kit. It took about 10 minutes to install. All reports are that the mike sounds great. The installation is neat, quick, simple and looks and sounds great. . . Anyone that has a D-104 that needs the mike rebuild I would highly recommend this kit.

03-29-2008 --
www.ampsrus.com
This past Wednesday I ordered a mounting kit for a Heil element for one of my D-104 lollipop heads for use on SSB from RBMicro.com

While I was on their website I noticed that they also offer a replacement element with a complete mounting kit. I figured what the hell and ordered that kit too --especially after listening to the recording posted on the website. Check it out and you will see what I mean.

The kits arrived today only 3 days later from Colorado!

As my Heil element didn't yet arrive (ordered from a different website) I figured let's do the replacement element kit and see how it goes. To say I was impressed would definitely be an understatement! The kit and instructions are top notch (BE SURE TO FOLLOW THE INSTRUCTIONS EXACTLY!) --And the results?? Equally impressive. The sound quality from initial reports from my locals is quite good. I will run a test later this evening with a bone stock head versus this replacement element kit and post the results back here.........

02-24-2009 -- brownie
I RECIEVED MY RBMICRO HI-Z ELEMENT KIT AND INTALLED IT, WOW...I WAS IMPRESSED WITH THE QUALITY OF THE AUDIO, IT ACTUALLY SOUNDS AS GOOD IF NOT BETTER THAN MY MC-320 CARTRIDGE. I AM VERY PLEASED.

02-20-2010 -- puka
Thank You, Iím amazed with the improvement in audio articulation on SSB & FM with this new Hi-Z crystal element vs. the mc-320 element I was using. The XTLK mounting kit fit perfect for a nice clean install. I will recommend this kit and element to other operators I know. Will be ordering another kit soon, keep up the good work. 73ís

06-14-2010 -- Ironfist
This is hands down the best element replacement on the market. And it's sold as a kit too! I recommend this to any d-104 user!

10-04-2010 -- firemech048
Got the kit today. I installed it and what a difference! I was looking for a mic for my Collins S line. I had a D-104 and everyone told me to get rid of it. Instead I purchased the kit and they can't believe the difference! I will now look for another D-104 and modify it for my Drake station. Thanks for a great product!!!

11-20-2010 -- jrenterprise1
bob hello, let me tell u my story. i have a double headed d-104 i got on ebay for cheap, but it sounded terrible.1 original 320 that was falling apart. and the other was an aftermarket element..searching ebay i came across an aftermarket element bought 2 for d-104 price 32.00 delivered..installed my local reports were sounded ok but hollow or echo sounding with just some foam i had for accoustics...NOT HAPPY..then bought used replacement astatic 320 elements 2 for 60.00 delivered..the reports were to tinny sounding..NOT HAPPY.. saw your site thought money back deal must be good. listened to recording ordered 2 sets recieved in 2 DAYS!!!! to michigan..installed both elements in 20 minutes took my time. my reports not tinny not bassy sounded just like me..let me say i have tested all microphones against a NOS tup 8 silver eagle just out of the box since 1976..they coundnt tell the difference no BS>>>.so now with all the parts offered by bob i now have a 1 of a kind like new looking and sounding double headed d-104..thank you BOB!!!! I hope your in bussines a long time great product...im buying 2 more just in case for other mics. hell i could refurbish d-104s for cheap and resell them..also all the other operaters were very impressed and are ordering kits also..i say get them while the gettens good..worth every penny..i was going to hold you to the money back deal.. if they didnt sound good since i lost all that money on the others..my next item is 2 silver eagle stamped back plate covers...i am more than pleased !!!!!!!! I hope this helps others..ps your elements are smaller than the other replacments but out talk them.. the acoustic kit is the way to go....CBI 729er 73s detroit michigan....11 meter city

05-15-2011 -- 313inthegarden
I received the kit in 3 days, it took less than 15 minutes to install and is by far the best enhancement to do to an Astatic Silver Eagle D104. It has a lot more range and much less background than the stock MC-320 element. Top notch improvement. Thanks again. "313"

09-24-2011 -- Dave457
Just got it today, very easy to install, took no more than ten minutes. Big difference in sound quality. Sounds more like a HiFi set up, best money Spent on my set up in a long time. Two thumbs up :-)

03-15-2012 -- Vicdilio
This is a very professionally done kit - well thought out and neatly produced. I had it wired to my G stand (not amplified) in minutes. It drives my 1970 Drake TR-4 without difficulty and on-the-air audio reports are excellent. The original element in the mic was on the way out - I should have done this replacement a year ago. Bob is great to work with and my kit was here in several days. This appears to be the perfect way to keep "this old mic" up and going for years to come.

08-21-2012 -- Kev270
I agree with the others: 1.Professionally designed kit. 2.Easy to follow installation instructions. 3.No time at all to install. 4.Quick service and delivery. 5.Sounds pretty darn good. This was a restoration of a 1974 d104 that had been in the attic for years. I was thrilled when I got my first report from a trucker who referred to my signal as a "Big Radio"...If only he knew what I really had! I'll be ordering a second one for the Eagle after I check out the electronics.... Well done Bob!

11-08-2012 -- danabandy
All I can say is wow! In the past I've always received complaints about the tinny sound of my original Silver Eagle D-104. I received my new replacement element yesterday and promptly installed it. I called a friend across town to listen in on my first radio check with the new upgrade and he said it completely blew his socks off - broadcast quality sound and super modulation. This upgrade has turned my base station into a powerhouse and I am really happy I made the purchase.

04-21-2013 -- stevenm4
Dear Bob: I purchased the XTLK - MC320 Direct Replacement Element and Mounting Kit for my TUP9-D104 microphone. The installation couldn't have been easier. Am using the microphone with a W2IHY 8 band equalizer and noise gate and am getting rave reviews whether the contact be local or DX. Crisp, clear and loud audio. Thanks for your product and service! AZ unit 590

11-27-2013 -- K7EK
I purchased two D-104 microphones from Ebay and wouldn't you know, they both sounded terrible on the air. I run AM mode with a K7DYY Super-Senior transmitter. I have K7DYY audio processor boards installed in the bases of my D-104's in place of the orignal boards. I have to say that I am extremely pleased with my D-104 audio after installing MC320 replacment elements. The kits arrived promptly. The price was very affordable. They were a snap to install, precisely as described. The only thing I had to do was adjust the audio level potentiometer on my K7DYY audio processor board afterwards and I was done! It was quick, painless, and provides me with nothing but outstanding audio reports on 160 and 75 meter AM. I am a very satisfied user of the MC320 Direct Replacement Elements and Mounting Kits and highly recommend them to anyone that wants their D-104 microphone to sound its absolute best. Turn that lousy sounding Ebay special D-104 microphone into what sounds like a brand new one. Best regards, Gary, K7EK