25LM022 Crystal element mounting kit
Details
25LM022 Crystal Element Mounting Kit for D-104 microphones

---
Did you like the way your D104 microphone used to work in the past but the element does not have the clarity it once had? Well, here is the economical answer for you. A Hi-Z crystal element with an acoustical mounting kit.. This mounting kit comes complete with the acoustical mounting pads, a wind screen and a baffle board to avoid phase distortion or audio cancellation from audio waves reflecting from inside of the microphone cavity along with a complete installation instruction sheet. The only thing you need to add is the 25LM022 element

With over 9 months of testing and development to combine the right acoustical materials to give an outstanding sound to the D-104 microphone, RB Micro is offering this mounting kit with the following specifications:
The front and rear mountings are made from sound absorbing polyester foam with a absorption coefficient of .33 @ 2000 Hz.
The baffle is manufactured from Vibrasorb® , a filled vinyl copolymer vibration absorption material.
The charcoal colored windscreen is an acoustically transparent reticulated foam designed to cover the screen area for a clean visual appearance and to replace the old cloth cover originally found in the microphone.
All pieces are die cut to fit the D-104 microphone head.
Installation instruction download: Mounting Kit installation Instructions 260KB Adobe pdf document
---
Here is a sound clip I made recording the difference between a D-104 with the original Astatic MC-320 element and a D-104 with the XTLK kit. The clip was recorded without any audio processing and both recordings used the same TUG8 base. The base electronics are original and not modified.
Listen Here -> MC-320 vs. XTLK mp3 665kb
---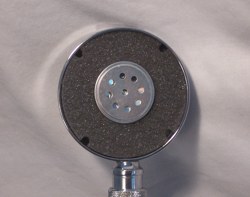 You may also be interested in the following product(s)
| | | | |
| --- | --- | --- | --- |
| | | | |